Who We Are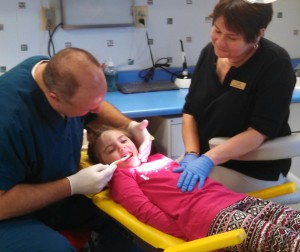 Westside Pediatric Dentistry provides the best possible dental care for your child and this is the number one priority. This includes educating your child how to properly care for their teeth and showing them the habits necessary to maintain lifelong good oral health.
We do all this in a fun, child friendly environment. We're excited to have you and your child join our dental practice.
Why Choose A Pediatric Dentist?
The pediatric dentist has an extra two to three years of specialized training after dental school, and is dedicated to the oral health of children from infancy through the teenage years. The very young, pre-teens, and teenagers all need different approaches in dealing with their behavior, guiding their dental growth and development, and helping them avoid future dental problems. The pediatric dentist is best qualified to meet these needs.
Meet Our Team
I am originally from the Rochester area and grew up in Greece.  As a member of the last graduating class from Cardinal Mooney in 1989 I have close ties to many of my fellow classmates.  I went to the University of Buffalo for undergraduate studies in Biology and then the University of Connecticut to complete my dental training.  It was

Continue Reading

...